Opening Financial Bank Accounts in Argentina for International Foreign Companies, Businesses, and Individuals from Abroad
Opening a Bank Account in Argentina
If you are a foreigner intending to open a Bank account in Argentina, below are the most frequent reasons why clients contact LIMERES to get legal assistance in getting accounts opened with the biggest banks in Argentina:
1. Cryptocurrency trading: Bitcoin and Altcoins. Buenos Aires -and Argentina in general- are locations that people choose to explore crypto-trading more than many other countries in LatAm. Why is Argentina so popular when it comes to crypto trading? Argentinians rank #1 in South America in terms of sophistication and that makes them be top on the list of people connected to the internet. This means Argentine banks have higher chances than their competitors to have a decent platform online to operate from abroad and in English so that it can be understood by non-Spanish speaking clients.
2. Business Formation and Company Incorporation: LIMERES assists several companies every month with forming a business. The main purpose of incorporating is to obtain a tax identification number and one or several bank accounts to receive and send funds.
3. Forex Trading: People from all around the world try to open accounts in Argentina in order to take advantage of the arbitrage opportunities between the Argentine peso and the U.S. dollar.
4. Buying Real Estate: A very frequent purpose of opening account from overseas is to purchase real estate.
5. Agricultural Farmland, buying cattle/livestock and commodities trading: Farmers from all around the world are always looking to open a bank account in Argentina for all these purposes mentioned above.
6. Repatriating funds to America/USA, Europe, Asia, Africa and/or Oceania/Australia.
In order to open a bank the following is required:
• For Individuals: a letter of recommendation from a local bank, a copy of a valid and unexpired passport, a criminal background check, a power of attorney and a form from Argentina's tax authority;
• For Companies: The same requirements for individuals plus the documents that support the existence of the legal entity abroad trying to apply in Argentina.
Opening a bank in any country abroad is never an easy task. Our expertise at LIMERES consists in assisting International Foreign Companies, Small Businesses, and Individuals from other nations with the opening of bank accounts to start doing business in Argentina.
Opening a Bank Account in Argentina
In order to apply for a bank account in Argentina there are previous steps that must be completed. The first one is obtaining a valid address as banks always require their customers to have a local address. A second requirement is obtaining a tax identification number for tax and fiscal purposes, to be able to hire employees, and so that banks will allow them to open an account with their financial institution. Banks must follow KYC & AML. AML stands for "anti-money laundering", and KYC stands for "know your clients." Based on these two banking principles, banks have required additional pieces of documentation. For example, letters from other banks attesting that client is in good standing with their financial institutions. Also, curriculum vitae, resumes, or biographies of the applicants/customers. Moreover, criminal background checks, and bank statements to prove solvency at other banks.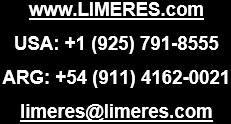 Doing Business in Buenos Aires, Argentina
Provinces in Argentina where LIMERES can open bank accounts: Buenos Aires, Santa Fe, Cordoba, Mendoza, Santa Cruz, Chubut, Salta, Misiones, Formosa, Salta, San Luis, San Juan, Entre Rios, Rio Negro, Catamarca, Tucuman, Chaco, Corrientes, Santiago del Estero, Jujuy, Neuquen, Autonomous City of Buenos Aires, Tierra del Fuego, La Rioja and, La Pampa.
The normal timeline to open a bank account can range anywhere from 15 to 30 business days.
The banks where
LIMERES
can open bank accounts more rapidly are the following:
Banco Santander
Bank of China – ICBC
Banco de Galicia
HSBC
Banco Patagonia
BBVA Banco Frances
Banco Macro
Banco COMAFI
Brubank and Galicia are two Argentine banks that allow customers to operate legally with cryptocurrencies. These banks will allow trading with Bitcoin, Ethereum & USDC.
Many clients believe that the biggest challenge that they will face with bank accounts is that the platforms of these banks are only in Spanish. Nevertheless, most platforms have English versions. Another option is using automatic translators.
Some additional documents that applicants may want to have handy when applying for a bank account are:
Two or more letters of recommendation from other local or foreign banking institutions that have had the applicant/s as clients. This shows that you are in good standing;
Criminal background checks of the country of residence. Even though banks will not ask for this formally, it doesn't hurt to show it to your account executive. Thus, they can see that you do not have any criminal background back in your country of residence.
Bills that can prove ownership of property and/or a legal address. Bills such as Electricity, Mobile, Gas, etc. will serve the purpose of proving legal addresses. This builds confidence in many shapes and forms.
Deeds of Real Property: Bank executives like to know that their customers are homeowners.
Although this information is never mandatory it always helps in the success of obtaining a foreign bank account.
For more information, to obtain a quote, or for a consultation, send an email to banks@ limeres.com. You can also visit limeres.com, or call, text, or send a WhatsApp to +(54911) 4162-0021.
LIMERES is a member of the International Network of Lawyers of InheritEstate.